14-16 Inch A-USP1 RWGV SLxFL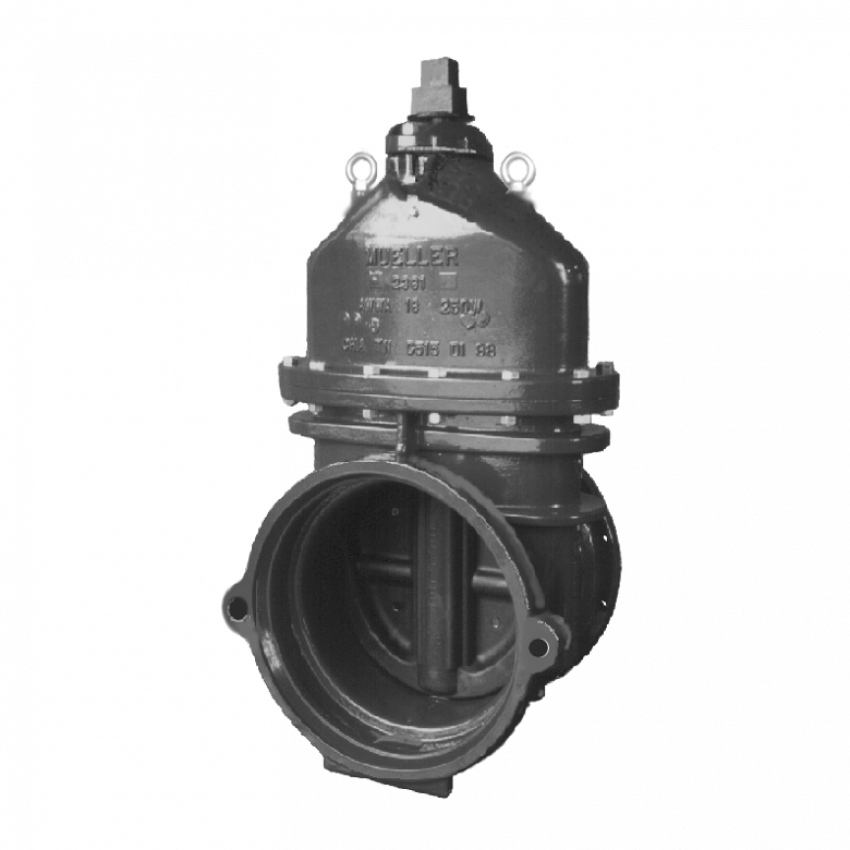 14-16 Inch A-USP1 RWGV SLxFL
Catalog numbers:
A-USP1-41 Slip-on† end (with gasket) x flange end
A-USP1-43 Slip-on† end (less gasket) x flange end
Specifications:
Sizes – 14", 16"
Meets or exceeds all applicable requirements of ANSI/AWWA C515 Standard, UL 262 Listed, FM 1120/1130 Approved, and certified to ANSI/NSF 61 & 372
Slip-on ends fit plain end of classes 50 and 100 cast iron; ductile iron and AWWA C905 cast iron O.D. PVC
Flanged end drilling complies with ASME/ANSI B16.1 class 125 and B16.42 class 150
Ductile iron body and bonnet with nominal 10 mils Pro-Gard® Fusion Bonded Epoxy Coating interior and exterior surfaces
Epoxy coating meets or exceeds all applicable requirements of ANSI/AWWA C550 Standard.
Ductile iron wedge, symmetrical & fully encapsulated with molded rubber; no exposed iron
Non-rising stem (NRS)
Triple O-ring seal (2 above the thrust collar and 1 below)
2" square wrench nut – open left or open right
250 psig (1725 kPa/17 barg) maximum working pressure, 500 psig (3450 kPa/35 barg) static test pressure
UL Listed, FM Approved – 250 psig (1725 kPa/17 barg)
Designed for potable water application
Options*:
Position indicators
Low zinc, silicon bronze ASTM B98-C66100/H02 stem 
Handwheel
Stainless Steel stem: Type 304, Type 316
EPDM disc and O-rings
*See Parts section below for more information on Resilient Wedge Gate Valve options.
Resources: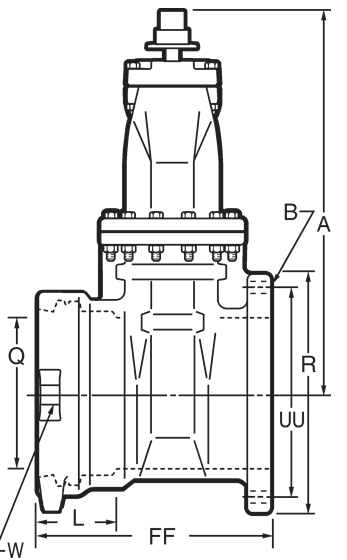 Dimension

Nominal Size

14"

16"

A

32.75

37.88

Q (bore)

14.38

16.00

W (distance between strapping lug holes across face of valve ends)

22.50

23.12

L

6.00

6.00

R

21.00

23.50

UU

18.75

21.25

B (number and size of holes)

12--1.12

16--1.12

FF

19.74

20.69

A - Spur Gear

40.49

43.58

A - Bevel Gear**

34.55

37.77

Turns to open (without gearing)

43.5

49

Turns to open (Spur gearing)

178

201

Turns to open (Bevel gearing)

198

221

Weight*

689

873
*All dimensions are in inches. All weights are in pounds and are approximate.**Center line of operating nut to center line of valve.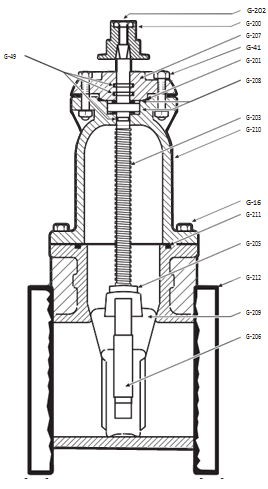 | | | | |
| --- | --- | --- | --- |
| Catalog Part Number | Description | Material | Material Standard |
| G-16 | Bonnet Bolts & Nuts | 316 Stainless Steel  | ASTM F593 (bolt) ASTM F594 (nut) |
| G-41 | Stuffing Box Bolts & Nuts | 316 Stainless Steel | ASTM F593 (bolt) ASTM F594 (nut) |
| G-49 | Stem O-rings (3) | Nitrile | ASTM D2000 |
| G-200 | Wrench Nut Cap Screw | 316 Stainless Steel | ASTM F593 |
| G-201 | Stuffing Box O-ring | Nitrile | ASTM D2000 |
| G-202 | Wrench Nut | Cast Iron+ | ASTM A126 CL.B |
| G-203 | Stem | Bronze | ASTM B138 |
| G-204 | Hand Wheel (not shown) | Cast Iron+ | ASTM A126 CL.B |
| G-205 | Stem Nut | Bronze | ASTM B62 |
| G-206 | Guide Cap Bearings | Acetal | - |
| G-207 | Stuffing Box | Ductile Iron | ASTM A536 ▼ |
| G-208 | Anti-friction Washers (2) | Acetal | - |
| G-209 | Wedge, Rubber Encapsulation | Ductile Iron SBR | ASTM A536 ▼ ASTM D2000 |
| G-210 | Bonnet | Ductile Iron | ASTM A536 ▼ |
| G-211 | Bonnet O-ring | Nitrile | ASTM D2000 |
| G-212 | Body | Ductile Iron | ASTM A536 ▼ |
* Fully encapsulated in molded rubber with no iron exposed+ Manufacturers option to change material to Ductile iron ASTM A536▼ Material strength ASTM A536 65-45 minimum